A chat with Michael Callies, founder of dépendance
Piero Bisello
dépendance in Brussels is a true artist's gallery. We had a chat with its founder Michael Callies, asking a few questions on how he built this reputation.
Opening almost 20 years ago, dépendance gallery in Brussels has carved a niche for itself in presenting a selection of star artists without turning into any of the bigger gallery powerhouses we all know. We sat down with dépendance founder Michael Callies for a chat about the history of the gallery and his approach to art dealing. What we find especially remarkable in his story is the sense of trust he built with the artists he shows, which might as well be owed to his own background as an artist. If there are such things as artist's artists (for an example, see our interview with Philippe van Snick here), there could also be artist's galleries, and dépendance seems to tick all the boxes to be a great example of one of them.
Can you tell us a bit about your background as an artist?
Michael Callies: I studied sports and physics as a teacher, but I couldn't get by at university. Everything was too big, too many people, a trauma. Then in 1990, Martin Kippenberger came to the Frankfurt Städel School as a guest teacher along with Michael Krebber. I already knew and liked his work. I approached his assistant asking if I could be a guest student there, and they accepted. After two semesters, Kippenberger finished his teaching and I started graphic design in Offenbach, but dropped out after a year and moved back to the Städel School where I finished in the class of Georg Herold and Thomas Bayrle. I still work with some of the people I encountered back then, like Thilo Heinzmann, Sergej Jensen and Haegue Yang for example. As an artist, I was not so productive and did only a few small exhibitions here and there. I always thought that someone would ask me to show my work, but that never really happened. Also, I was not a painter; my work was more conceptual and a bit sarcastic. I had no plans for where to take my practice, unlike some artists I knew at the time who had really clear ideas. At one point, a friend and curator organised a group show and all my other artist friends where in it, and I was not invited. This was the moment when I decided to stop.
How did you become a gallerist after that?
Michael Callies: For 10-12 years I was going back and forth between Frankfurt and Brussels, as my wife was working here. I would spend time in the bookshops and the flea market, free to explore and understand the art scene in Belgium. Through a friend I eventually met Stephan Jaax, who was an art collector and ex banker living in Brussels. At one point we decided to do something together, invested some money in this plan, and organised our first event: an exhibition of Sergej Jensen. We calculated that by keeping it low cost, we could keep our gallery open for maybe two years without selling anything. We got a list of possible collectors from someone in Brussels, but we later figured out that the list was not up to date at all. We didn't have any idea about the business we had just started.
How did you first decide which artists to show?
Michael Callies: After Sergej, who was a friend and working already with Galerie Neu, the roster grew by inviting friends, and friends of friends.
And what about those artists you included in a later stage?
Michael Callies: I can give you a few examples. Some time ago I was in an art fair in Athens, where I was invited with other ten galleries by Isabella Bortolozzi. I was installing the booth, and I needed a drill. I asked someone who was using one next to me if I could borrow it, and that was Oscar Tuazon. He started to explain what he was doing and I liked him and his work. I spontaneously asked him if he wanted to show a couple of pieces in some future exhibitions I was organising, he said yes and that is how our collaboration started.
Another time I was at Statements in Basel, where Bortolami was having the booth in front of ours showing works by Richard Aldrich. I remember saying to myself that his paintings were becoming better and better, and then started to really getting into them after a week spent there. I wanted to ask him if he would be interested to work with us but someone told me he had already been asked by a bigger gallery. In the end, he fortunately decided for us. I think he felt closer to our program with painters like Krebber.
In the case of Ed [Atkins], I knew his work but never met him. When we had a dinner for Jana Euler in Zurich, I was at a table with Martin McGovern and then I said I to him that I would like to show Ed Atkins, and it turns out that Ed was sitting next to me.
In an interview with Alan Jones and Laura de Coppet, Ileana Sonnabend called herself an "amateur" rather than a real gallerist, that is someone who is both a lover of art (amateur in French also means a person who loves) and very instinctive about the activity of art dealing. Do you feel close to this attitude?
Michael Callies: Not really. I think in my case I see the gallery more as a work that is close to what I was doing as an artist. Especially in the beginning, I was always much more nervous than the artists showing here. I was always very engaged in making the shows, even because there was no budget to do otherwise. For example, with Nora Schultz we chose and sourced her materials together. It was a relationship of trust with the artists, as they thought I had some good ideas. Just like one of their friends, they would listen to me about the way they should install their exhibitions. Even though I was no longer one of them myself, I still needed to find a way to create, and that was the gallery.
What are your professional reasons to be in Brussels as opposed to somewhere else?
Michael Callies: The question arises only hypothetically since I came to Brussels for personal reasons. But what I could do with the gallery here I couldn't have started in cities like Berlin or London because some of the artists already had galleries there. Brussels felt like an Island.
Fair fatigue is a phenomenon that applies to both visitors and exhibitors at art fairs. The fair calendar is overwhelming, and for better or worse a few galleries have decided to pull out of this system and focus on their space. Do you think art fairs will always be a necessary condition for a gallery?
Michael Callies: Trade fairs were always important, very early in Cologne and Basel and later London and Paris. Only New York was always a little more difficult. There are several reasons to participate to fairs but one of them is surely doing good business, and that's a simple calculation. However, this is not the only motivation, as when you are at a fair you meet so many people. When you sit at home, you don't get the same chances. You meet people only if you go out for a party, and this is because maybe you talk to somebody that makes you think of something you never thought about.
Do you think that by doing many fairs you risk neglecting the program in the gallery?
Michael Callies: No, I don't think I compromise on my gallery program because I am busy with fairs.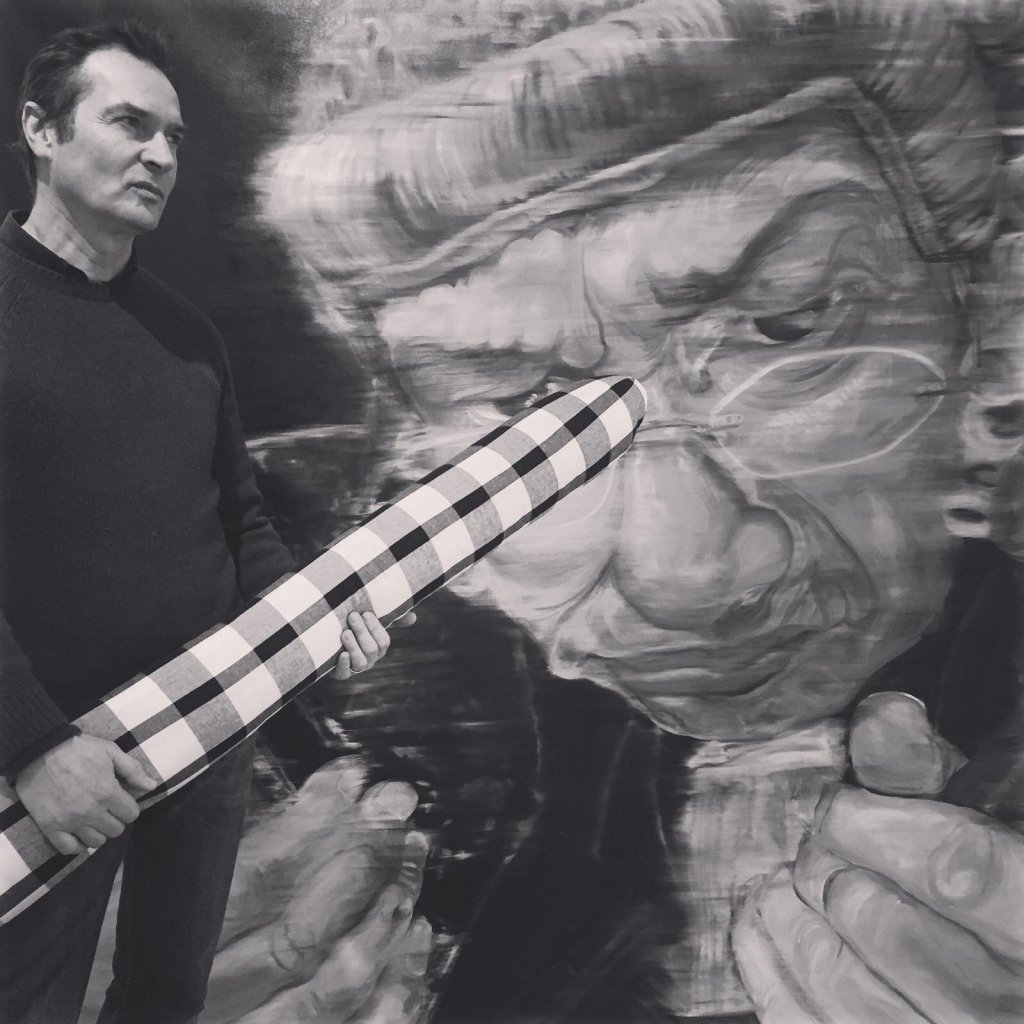 Sometimes you put up group shows. What is your approach when you need to include different artists in the same exhibition? Do you sometimes work with curators to help you with this task?
Michael Callies: We actually curate ourselves. There is an idea and then one thinks about who could fit it and we ask the artists if they want to. Installing the exhibition is like at the fair, in the end it should look cool.
What are the differences between the way you grew as a gallerist and what gallerists do now?
Michael Callies: We didn't have much experience and somehow grew up with a lot of detours. I think that young galleries today have a much clearer plan, and must have it because it's a much harder time. For us it was important that in the exhibitions the artists could always do whatever they wanted without thinking about commercial success. That may have changed a bit, but not for everyone.
February 18, 2020