Larissa De Jesús Negrón's path to enlightenment
Veronica Gisondi
"Things tend to build up and then you're left with a bunch of anxiety and jealousy that you don't understand." On Larissa De Jesús Negrón
What does it mean to be after the sun? It means standing behind the source of all – of light, life, growth, death – in the pursuit of lost questions and blazing truths. There are no chasms here, no monsters to be fought; there's desire, exposure, affect. A wish to absorb some of that clarity, to pay attention, and then to look back in. A will to redraw the threshold that separates one from the impossibility of complete realization, of pure understanding – over and over again. The work of Larissa De Jesús Negrón and her latest solo show Detrás del Sol at Real Pain stems from a comparable sense of yearning.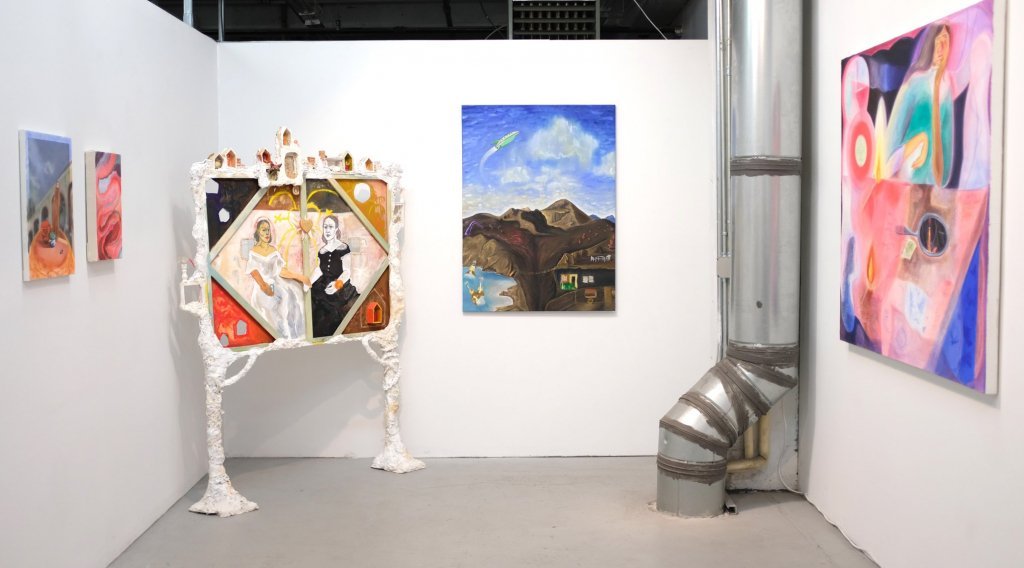 In her pieces, embodiment and self-reflection are mediated by the flow of her own consciousness through the limits of physical spaces, be that a room or the canvas. Her process is based on pushing the boundaries of the painterly medium, bringing about a non-linear reflection on the concept of distance, which often develops into an inward-looking speculation, in time and space.
Despite the non-linearity of her approach, storytelling is key in De Jesús Negrón's practice. The mundanity of a beauty routine, whose ordinariness prompts an outburst of dread in Invierno en Forest Hills (2021), unearths misplaced feelings of hope and faith towards the self in Drowning in Expectations (2020), where it is imbued with a longing for what is other. At a first glance, daily life may seem an unassuming subject. But there's a darkness and, most importantly, a possibility for self-reflection and deep comprehension in the recurrent nature of habit as De Jesús Negrón depicts it.
In her art, frames – of a bathroom cabinet, a shower curtain, a chest of drawers, a car in motion, a windowsill – become time-frames: windows onto a different reality, evanescent projections of a geographically displaced but emotionally persistent past. Still life compositions of everyday, familiar items materialize on tables-turned-oceans overlooking New York's cityscape, as in Vida (2020), as well as in sinks and bathtubs filled with water – the chosen locus of introspection, self-analysis and spirituality for De Jesús Negrón.
The first time she painted water, she recalls, was to represent tears. "When you're being honest with yourself, or when you're praying, or talking to yourself and realizing things about yourself, crying is just part of the game. Crying is a way to let go and move past." Her work embraces water as a recurring topic, simultaneously seeking to express it in its less tangible forms – as vapor, mist, clouds – and investigating it as a sculptural entity. Through an agile use of a technique that mixes the weightlessness of airbrush with the density of oil paint, De Jesús Negrón plays with texture and depth, dissolution and crystallization. Droplets turn into solid matter. Beads and crystal balls are repeatedly scattered on her canvases as floating residues of emotions and intimacy. They are vivid mementos of a yearning that simply won't go away.
The overarching narrative that underlies De Jesús Negrón's body of work is enmeshed with a deep-rooted nostalgia for her hometown, Puerto Rico, and how it continues to impact her experience in New York. Each of her paintings carries the memories of her life on the island, and speaks of her want to go back to its landscapes, rivers, rainforests and beaches, and to reunite with her family. "Even if I don't think a work is talking about my childhood, my home or Puerto Rico, it does," the artist tells. "Every single time that I make something I'm talking about home."
De Jesús Negrón grew up in Guaynabo, a city on Puerto Rico's northern coast. Before she started making art, she enjoyed watching her aunt draw and make doodles – it was the realization that she could "make something out of nothing" that sparked her interest in the discipline. She began to attend art classes at nine; she would paint together with her father, just for fun. "He would want me to find meaning in whatever I was doing, so that definitely pushed me to keep creating." Today, what fuels her productive drive is that very search for meaning and understanding. Her father also had "a bunch of Dalí prints around the house." Surrealist art, and specifically the work of Frida Kahlo, Louise Bourgeois and Iván Tovar, became an early source of aesthetic and conceptual inspiration for De Jesús Negrón.
But her love for Surrealism is strictly tied to an admiration of its capacity to "take you out of whatever you're living – while also taking you into whatever you're living." At the core of the movement was a duality that – through an elliptical portrayal of reality and a violent piercing of the unconscious – resonates with the artist's gaze on, and pictorial treatment of, physical and psychological boundaries. Across her works, the perspective shifts from narrow close-ups to bird's eye views, as a tension between interiors and exteriors, comfort and desolation, the actual and the imagined develops. The rift between memory and real life opens up a possibility to explore ideas of closeness and distance in time for De Jesús Negrón, and to unravel something inherently conflictual, that is, relating to positive remembrances of the past while being conscious of the bleakness of the present moment.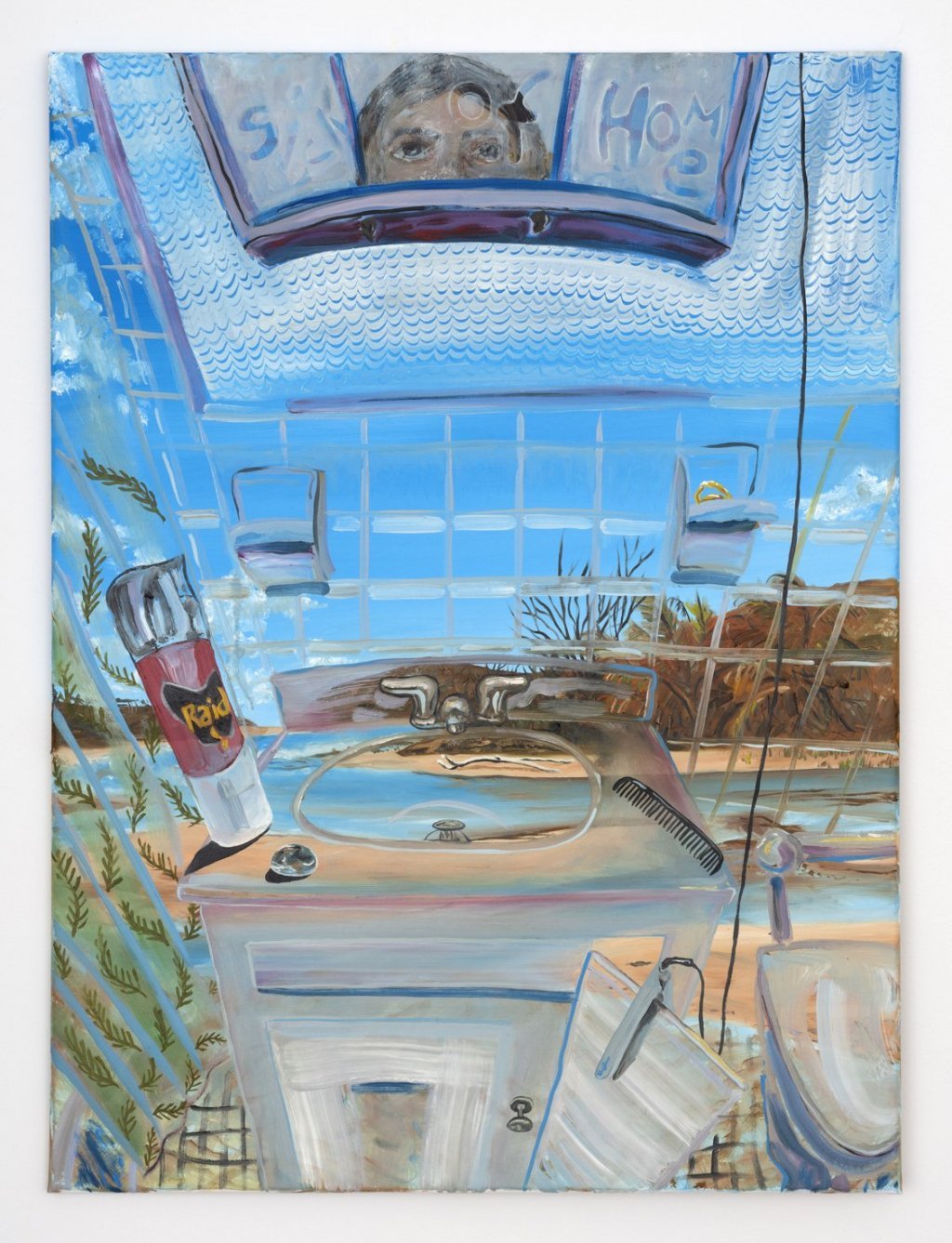 What brings her back to the home as a topic of inquiry is, ultimately, a search for acceptance. In Sick of Home (2021), a bathroom is superimposed onto the painting of the beach of Arecibo. "It was me just wanting to feel at the beach, wanting to feel that moment again – just a little bit longer. But when I painted the beach I realized: well, I'm not there. It's not being honest enough, or present enough. I'm not accepting my reality. And that's why I painted the bathroom, the Raid spray for the roaches… it's a reality thing." Her work progressed into this path relatively recently, when being forced to stay home due to quarantine heightened a pre-existing interest in the power of interior spaces to mold the behavior of their inhabitants. At the very beginning of the same period she bought an airbrush machine and produced a series of portraits of grieving people. "In each one of those portraits you can see me trying to learn. You can see the spills, and the machine getting clogged, and the mess on the paper. I sold them out for really cheap too – like forty dollars a pop […] I regret it. There's something about these portraits that I'm never gonna be able to recreate with airbrush, because now I know how to use it."
Mistakes and accidents are a source of excitement for De Jesús Negrón but she recognizes that, as she continues practicing, they happen less and less. The volume of her production inevitably leads her to fall into a routine. What follows is the loss of a sense of purpose. "That is my biggest fear – that I don't feel connected to my work, that I'm not learning something, or discovering something." When that happens, she switches mediums, "whether that be clay, chalk, or pastels, or changing my surface, maybe moving to wood or canvas when I work with paper. When you switch medium, it gives you new things to think about and new challenges to face. That keeps you fresh. There's no space of discovery within habit."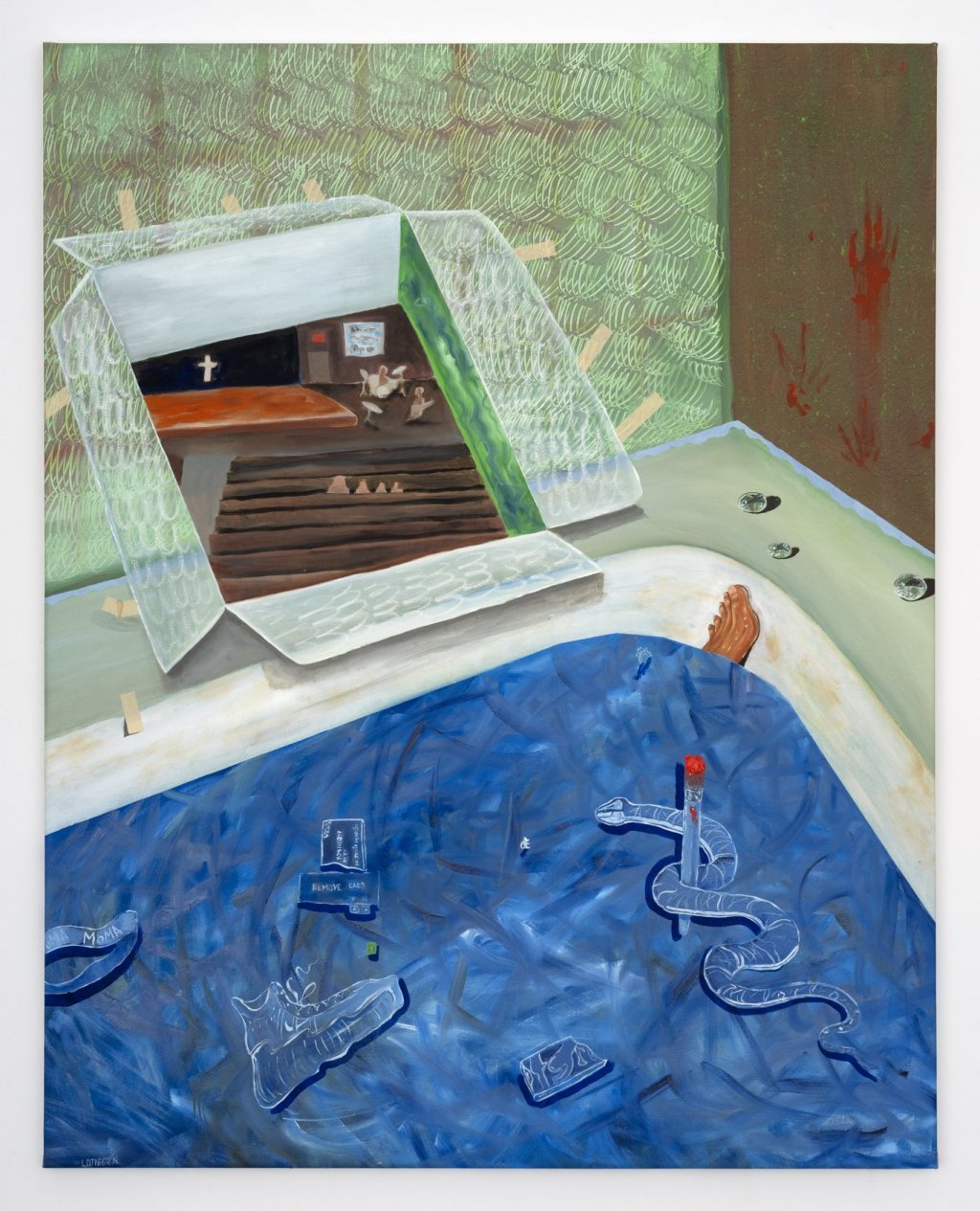 If experimentation is her favorite antidote, technique is the driving force behind De Jesús Negrón's work: her future plans revolve around the medium, not the subject. The contrast between three-dimensional media, like modeling paste and thickly laid oil paint, and airborne pigment, with its immaterial quality, has become a crucial device for the artist to test texture's potential, expand her formal lexicon, and start telling a larger story.
Since the focus of her practice – De Jesús Negrón confirms – is unabashedly on herself, feeling connected to her identity (and connecting with people through it) is the only condition for her to keep working. It's also where she draws her motivation from. "When I feel that a work is connected to something that I am – my identity, my fears, my desires – or something that talks about me, that gives me a rush. It keeps me wanting to explore and understand that." Art is an arena where true, profound learning can happen, and serves as a practice of healing and inner growth for De Jesús Negrón. To her, it's a way to "process things as envy, jealousy, hatred – things that are very human and we all have felt."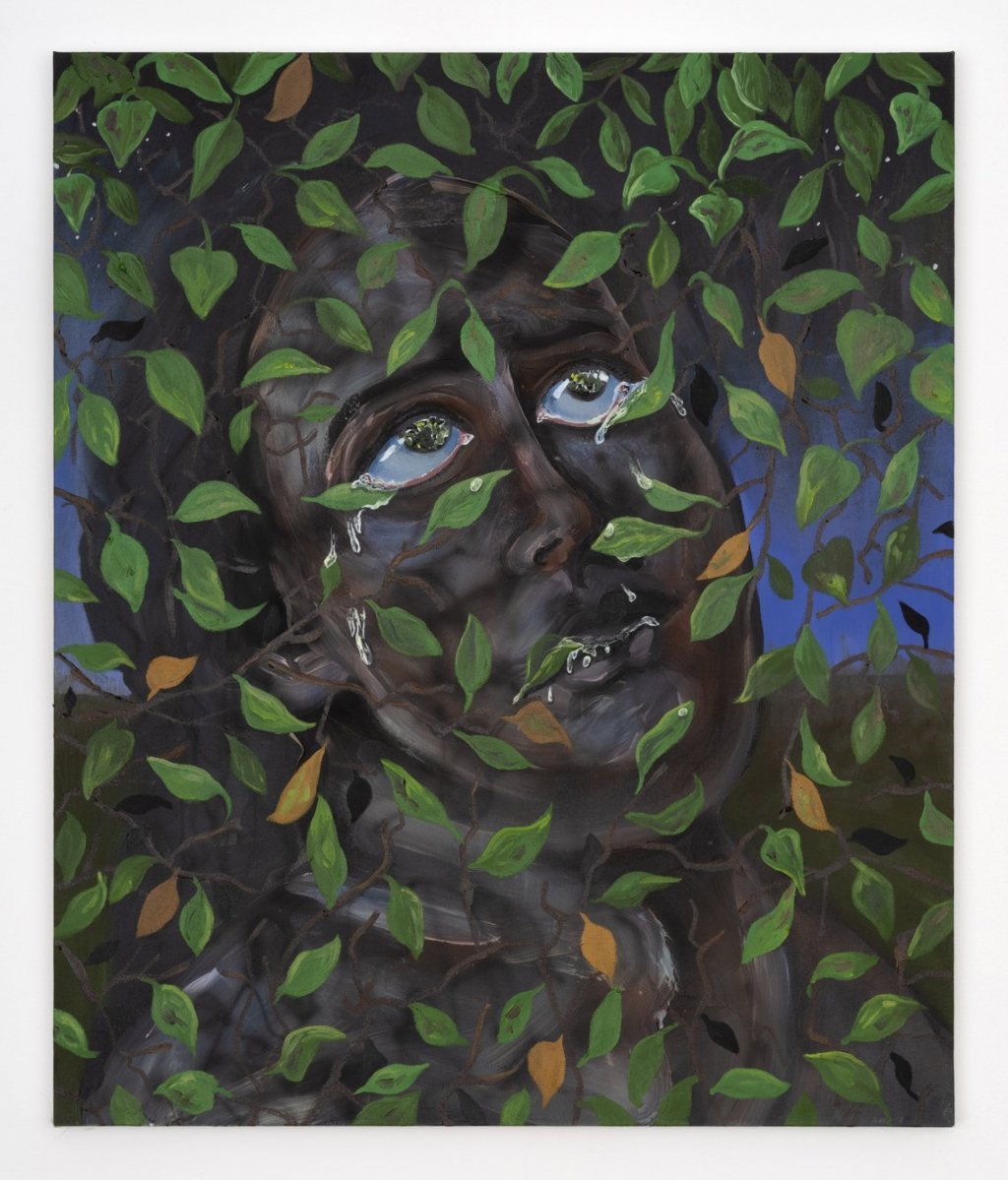 Some of the instances where the struggle to reach an understanding of her own feelings, the search for enlightenment, and the necessity of change manifest are I need you to fix me (2020), Fixing old habits (2021), Waiting for a rude awakening (2020). However, when searching for answers, she turns to philosophy. Speaking of this domain, the artist mentions how Philosophical Meditation (2020) is a direct reference to Alain de Botton's work on the topic of emotional education, and to his book titled The School of Life: An Emotional Education (2019).
Engaging in philosophical meditation, De Jesús Negrón explains, is a matter of spending time with yourself and asking questions. It means to become receptive and acquire the ability to work through life's challenges on your own. The point is not to avoid the feels. "I don't wanna ignore the things that I'm feeling, or not give them enough attention. Things tend to build up and then you're left with a bunch of anxiety and jealousy that you don't understand." For De Jesús Negrón, the parallel between art and the principle of philosophical meditation resides in their shared outcome. "It makes me understand myself, just like my art work does." Perhaps, in the end, life – not unlike art – is about conflict management. "It's such a simple practice", she notes. "But only through practice you can become aware."
May 18, 2021