Maren Karlson: effects and defects
Stefano Pirovano
Maren Karlson studies continuity between human being and environment, science and spirituality, individual and collective body
Maren Karlson speaks through empty space by developing articulated, sinuous, even aerodynamic forms located around a void. Some works depict (bodily) cavities, while others recall subterranean caves carved by water or lead to the semantic field of fanta-technological machines. Shapes remain smooth, stretched and rounded. Karlson's colours are mostly nocturnal, using a technique of chiaroscuro to delineate her volumes. As shadows intensify, they suggest unexplored depths, perpetuating the inaccessibility of the void by light or sight.
Furthermore, Maren Karlson's paintings nature is not a virtuosic one. Paintings and drawings are precise, balanced, harmonious, unquestionably well-executed, but technique never takes the lead. "I'm more interested in distorting or confusing perspective" says Karlson, "moving between dimensions, and acknowledging that there is no stable ground to hold on to". It follows that Karlson's sculptural practice is not a mere three-dimensional translation of her pictorial one. Instead, the artist prefers to tread the path of assemblage, at least for the time being.
In order to read the formal aspect of Maren Karlson's work it is important to understand its spiritual premise. As she puts it: "what happens when the human being lets itself be overtaken by what surrounds it to become part of the background? What happens when the distinction between something and nothing dissolves?". Karlson's images are complex elaborations in which human X-rays and landscape details the artist photographs herself converge. The landscape is to be intended as a place of the effects and defects of anthropisation. A crashed car, a dismantled switchboard, a motorway junction. The empty space that her paintings and drawings produce are thus the shape of the spiritual; it adapts dialectically to the environment. Forms change and renovate because the universe is seen in its continuous becoming. In this sense, space is, just like the space enclosed by European Medieval church architecture, a substance into which human beings are immersed and dissolved. This is why the colour variations in her paintings are so subtle, often undetectable to camera sensors. The cavities are obtained by means of subtraction from a material that has the symbolic nature of stone. Sinuosity could be the same that we find in the capitals, in the portals, in the tiles that make up the narrative apparatus of the Medieval liturgical boxes on the pilgrimage routes, the same way an X-ray image would reveal.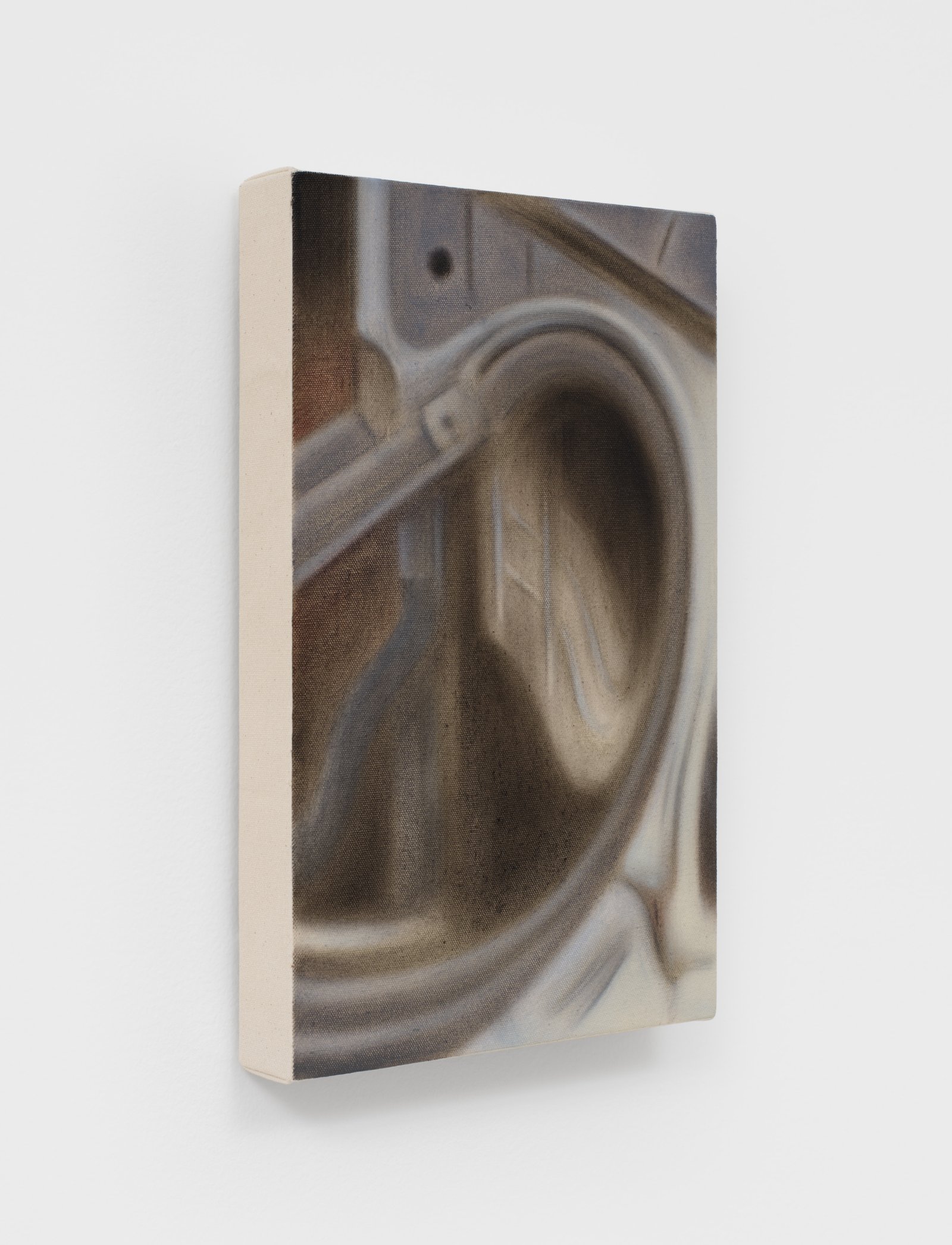 In the first half of 2023, a group exhibition entitled "Species", organised by Mai 36 in Zurich, suggested a proximity between Maren Karlson's works and those of Alien's dad, Hans Ruedi Giger. The exhibition also included works by Hiroki Tsukuda and Berenice Olmedo (we wrote about the Mexican artist here). For the reasons we have explained, and in the light of the above artist's statement, the relevance between Karlson and Giger's imagery seems only applicable on a formal level. At this point we would also have to consider the post-technological universe of certain Japanese media (think of Miyazaki's Moving Castle, for instance), or the proto-post-human scenarios generated in the Seventies by artist and cartoonist Sergio Sarri. But we are walking on a slippery slope of formal similarities. As Karlson points out, her approach has more to do with artists such as Lee Bontecou, Lee Lozano, Tishan Hsu or Martin Wong. Regardless of where the artist decides to land it, her type of abstraction process is actually similar in nature to that of Giorgio Morandi or Peter Dreher. Likewise Karlson's works expand a labyrinthine poetic intuition that her notes and work's titles sometimes may phrase.
Maren Karlson speaks of her painting as a way of 'digesting' certain aspects of the world around her. Painting means filtering, reducing, breaking down, analysing. The first process of this passage takes place in sketches and sentences that Karlson jots down freely but in a constant order and almost always writing in block letters. There is something systematic and methodical in her notebooks. One can see Karlson's interest in studying the continuity between the human being and the environment, between science and spirituality, between the individual and the collective body. There are also diagrams and sketches of what would at some point become paintings. But after all, the flow of thought that runs through this more intimate and still private channel also leads to the shaping of that emptiness we mentioned at the beginning. And it is as if Karlson's painting is a way of keeping herself in equilibrium at the very heart of this emptiness.
September 4, 2023