To be discovered: five unusual Renaissance pictures of wild animals
Piero Bisello
Five unusual pictures of wild animals from the Renaissance provide an insight into the human/beast relationship, situating it between myth and science.
In periods of serious human crisis, one might find it strange to read about wild animals and Renaissance pictures. Epidemiological statistics, economic downturns, countermeasures, availability of hospital beds, the response of politicians: these are the topics we are currently expecting in the daily news. Yet wild animals have been given fresh press coverage these days, not so much because of the environmental concerns we used to hear in the pre-epidemic times, but rather because this very human crisis has involved them in unexpected ways.
On the one hand, wild animals have been the involuntary origin of this new disease. The infamous bat and pangolin know it well. On the other hand, they have been hailed as winners, taking back those environments otherwise reserved to humans, from deer running down the streets of Japanese cities to fake dolphins swimming in the canals of Venice.
These anecdotes are just human representations of wild animals through press, urban legends, and even Hollywood predictions (seen the surprising film Contagion?). Since the cave paintings, humans have loved to represent wild animals and give them meaning in a way or another. Today's stories about them are not different.
What we present here is a selection of five animal representations you might not know about, picked up from Renaissance Italy and Northern Europe. As Simona Cohen well explains in her book Animals as Disguised Symbols in Renaissance Art, during this time and in those places, artists depicted wild animals both for the sake of some quest for scientific naturalism and for reasons of adding symbols to their images. Science and fiction coexisted, not unlike what happens today. It was a truly pivotal moment in the human-beast relationship, with art to represent it. Our selection aims at giving an overview of it.
Lucas Cranach the Elder, Cardinal Albrecht of Brandenburg as Saint Jerome
This oil on panel held at The Ringling in Sarasota dates back to 1526. Cranach depicts the Cardinal Albert of Brandenburg in it, representing him as Saint Jerome to give him honours. Cranach painted at least 8 different pictures of Saint Jerome with the hagiographical reference of the tamed lion. However, this painting presents a much larger amount of animals, cramming them into a catalogue of allegories. Their unrealistic choreography and the unnatural light illuminating them give the painting a surrealistic tone, reminiscent of works by Dalì or De Chirico. There is an uncanny flatness, an awkward perspective. In the Journal of Emerging Infectious Diseases, Polyxeni Potter writes about the painting:
Despite the naturalism so valued in the art of Cranach's time and his own interest in painting them, the animals in this portrait of St. Jerome remain just icons of human values, […] intended to symbolize characteristics laudable to the patron: monogamy, industriousness, frugality, loyalty, rejection of earthly desires. (Potter 2012)
Leonardo, Study of Insects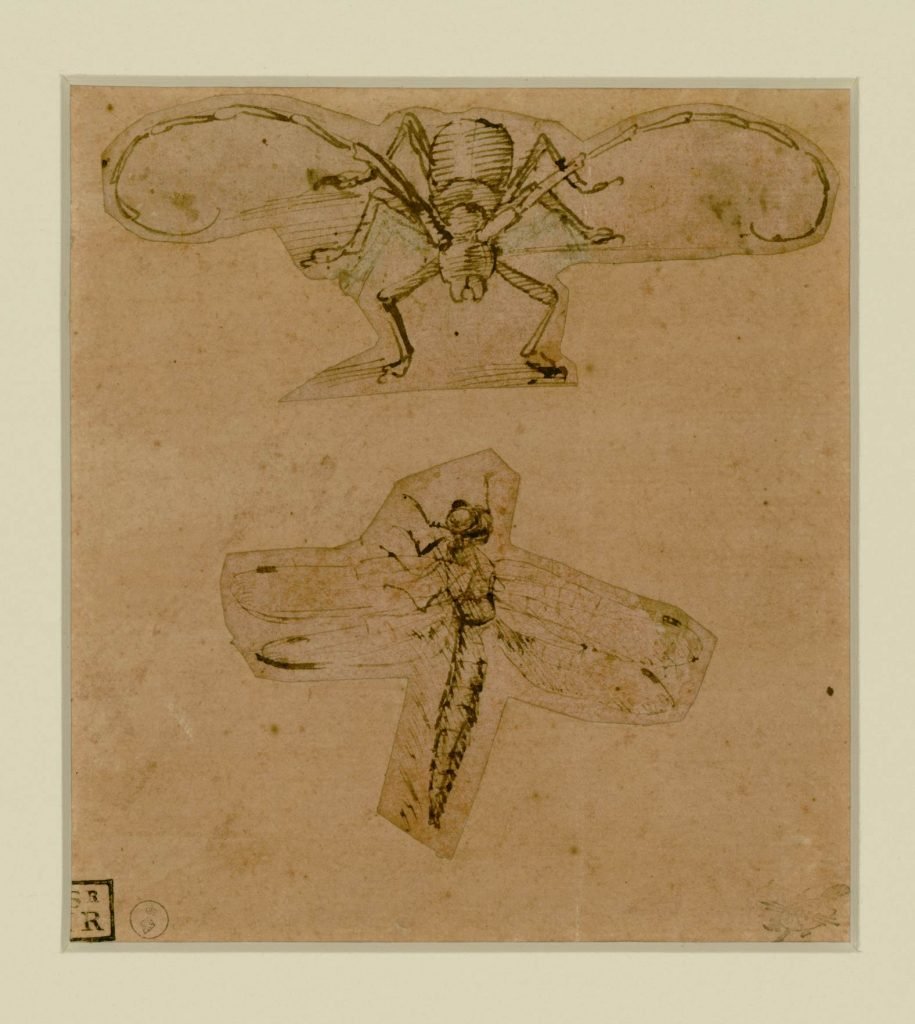 Leonardo's drawings of animals are first and foremost scientific studies in anatomy and movement. These two sketches pasted together on one sheet are held at the Biblioteca Reale in Turin. The top one depicts a coleopter and dates around 1480, the one at the bottom represents an antlion and was made around 1505. The naturalism of these pictures is stunning, and speaks clearly of the artist's fascination for nature. However, one should not forget that Leonardo also produced a detailed bestiary of Medieval inspiration, where the symbolism and supernatural properties of wild animals are clearly described. As Simona Cohen writes:
The greatest scientist-artist of the Renaissance, who prided himself on his empirical methodology, considered these fantastic animal tales with their appended moralizations, to be worth copying. Thus symbolism and empirical naturalism coexisted in Leonardo's art. He valued and preserved the bestiary tradition, despite its encumbering legends and ethical appendages; it did not conflict with his highly innovative scientific work on animals. Fact and fantasy existed side by side. (Cohen 2008, p.29)
For more about Leonardo's drawings, check our article about recent restorations of his paintings and discoveries about his work process.
Giovanni Mansueti, Saint Jerome in Penitence
This oil on canvas from 1515-20 by Venetian painter Giovanni Mansueti now held at the Accademia Carrara in Bergamo is an example of a different way of depicting Saint Jerome. While the painting by Cranach refers to the saint as the scholar, placing him in an interior of books and other symbols of knowledge along with allegorical animals, Mansueti chooses to depict Saint Jerome as a hermit. He drops his human figure into a harsh natural landscape of Gothic and Netherlander inspiration. Like his Northern European counterparts and their hyper detailed environments, Mansueti seems to fear empty space and includes a plethora of wild animals. One can spot the hagiographical reference to the lion, but also a bear, a weasel, leopards, monkeys, and a dog. The seminal art historian Erwin Panofsky was perhaps the first modern scholar to scientifically provide readings of the meaning behind wild animals in Renaissance pictures. For example, in his book Studies in Iconology: Humanistic Themes in the Art of the Renaissance, he mentions the figure of the dog as the symbol of the capital sin of envy. In this regard, Saint Jerome might be keeping away from the evil expressed in the presence of the wild animals by staring at the cross of Christ in front of him.
Jan Mostaert, Portrait of a Young Man
Dutch Jan Mostaert painted this portrait of an unknown young man in 1530, now held at the Walker Art Gallery in Liverpool. We included this work for the subtle way of using landscape and wild animals in private portraiture at the time. The figure of the young man blends with the surrounding environment, which represents a hunting scene. According to hagiography, the man kneeling in front of the white stag is Saint Hubert, who was most likely an important figure in the life of the young man of the portrait. Legend has it that Saint Hubert stopped his hunt and converted when Christ appeared in the antlers of the stag he was chasing. This legend shows that wild animals were sometimes vehicles of god in the Christian tradition, and not only symbols of evil as in the case of the temptations of Saint Jerome. Throughout his life, Mostaert was fascinated by paganism. He was one the first Renaissance painters to depict the peoples of the colonized Americas. The large space he left for the background legend of Saint Hubert in his portrait of a young man reminds us of the pantheistic and pagan overtones of Piero di Cosimo, an outsider figure in Italian Renaissance whose depictions of wild animals and hunting scenes are among the most remarkable from the period.
Here is our article on Piero di Cosimo's ecological view in his fascinating depictions of wild animals.
Giovanni Bellini, Fortitude
Currently belonging to the collection of the J. Paul Getty Museum in Los Angeles, this small pen drawing by Venetian master Giovanni Bellini from the late 15th century represents the virtue of Fortitude. It is unclear whether the picture is a study for painting or a simple sketch. As to its subject, both Greek philosophy and Christian morality included courage as one the virtues of human character, and often represented it in art through images of a female warrior wrestling a wild beast. In the case of this drawing, Bellini's choices are unusual. His warrior is sitting down, almost in a house working position. She is wearing a traditional everyday dress, different to the classic representation of the Hellenistic warrior. Her perfectly tidy hairstyle reveals her force over the lion, whose fur is disheveled. The anatomical rendering of both bodies is naturalistic, and so is their interaction. Only the awkward disparity of force between them suggests the idea of fortitude. This unusual picture comes across as a great example of how the use of wild animals in the Renaissance still existed in between religious tradition and scientific fascination. As Simona Cohen writes: "we can perceive highly conservative themes and attitudes concealed beneath the most innovative formal and technical manifestations of Renaissance art." (Cohen 2009, p. xxxvi) Science and myth coexisted, just like today.
Bibliography
Cohen, Simona. Animals as Disguised Symbols in Renaissance Art. 2008. Brill, Leiden, Boston.
Panofsky, Erwin. Studies in Iconology: Humanistic Themes in the Art of the Renaissance. 1939. Oxford University Press.
Potter, Polyxeni. (2012). Why Are We by All Creatures Waited on?. Emerging infectious diseases. 18. 2098-9.
December 2, 2020