Lynn Fung and the fascinating, authentic and rare Liang Yi Museum
Ricko Leung
An interview with Lynn Fung, director of the Liang Yi Museum in Hong Kong, the largest private museum in town.
Being a private museum in itself is a rarity in the city of Hong Kong. Located on the historic Hollywood Road, the mecca for collectors of Chinese antiques, Liang Yi Museum is the largest private museum in Hong Kong. It is founded and owned by tycoon Peter Fung Yiu-fai, showcasing his personal collection of Chinese and European antiques accumulated over four decades. The museum houses, over its four floors, one of the world's largest collections of Chinese antique furniture, antique clutches, compacts, and powder boxes. The museum is named after Peter Fung's two children. Lynn Fung, the founder's daughter, who bears half the museum's namesake, is the head of the museum.
We had a chat with her to understand more about the collection, the mission and vision of the museum, how she promotes Asian antiques and decorative art to the international audience, and how the museum interact with the rapidly thriving local art scene.
How was it growing up with a collector father? How has that influenced you?
Lynn Fung: Having a collector as a father was a truly educational experience. My father loves to share stories about his collections, his acquisitions, and he is truly passionate about telling anyone who would listen all about them! One of the key ways in which he influenced me and in turn influenced the way we run the museum, is that he made me realize the importance of storytelling and narrative when it comes to educating people about our collections. It is much more interesting to learn about a table through hearing a story about the how and why it might have been made, than just a placard that tells you its place of origin and date.
[In regards to having a father who was a collector here is the link to our interview with Hans-Adam II Prince of Liechtenstein. Ed]
What do you collect yourself for your own home?
Lynn Fung: I don't really collect very much at the moment. I'm buying a few pieces of furniture here and there for our home when it is needed, but I definitely do not acquire to the same degree as my father.
What elements would you say are essential for a good collection of Chinese antiques?
Lynn Fung: My father always had 3 criteria that he would consider when he was looking at a new object: Is it beautiful? Is it rare? Is it authentic? I feel like those are pretty good guidelines for collecting any sort of antiques. I would add that you should also truly love what you buy, and not buying it purely as an investment. That way, even if it loses value, at least you will always enjoy having it.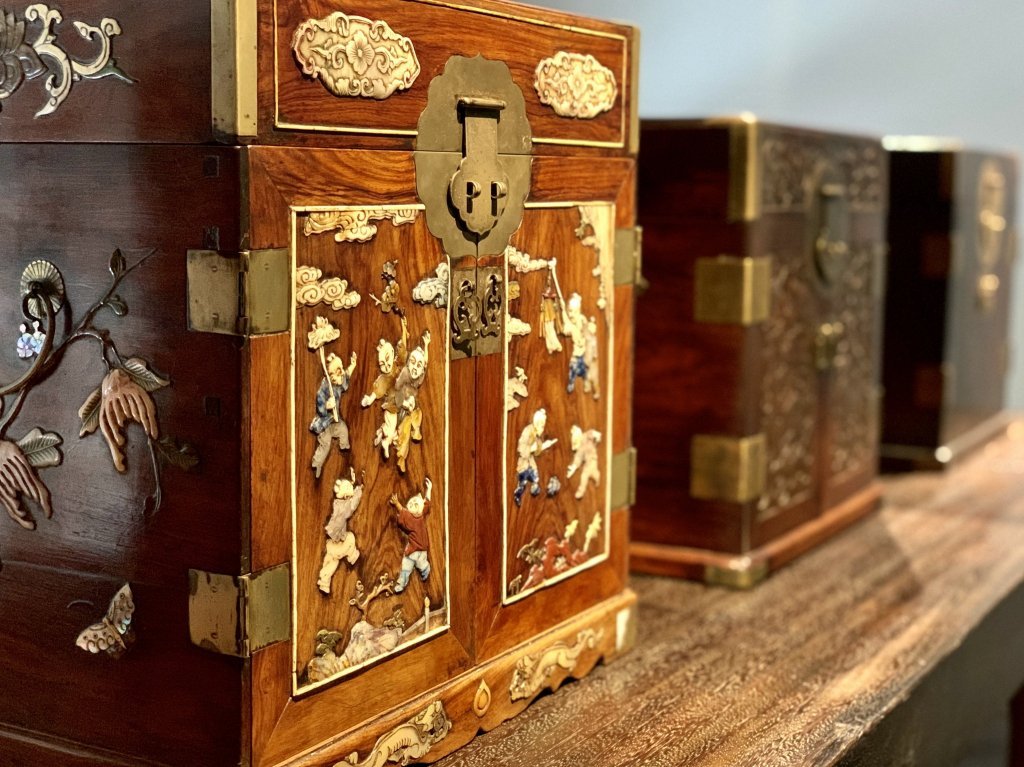 How did you and your father establish Liang Yi Museum?
Lynn Fung: We acquired the building of the Museum which we were first going to use as only a storage for our collection. But the more we thought about it, the more we saw the value in having a space in which we can allow people to come in and learn about our collections. We came up with the idea of establishing a private museum that would be a meeting place for like-minded enthusiasts of our collection at first, and then through our educational programming and collaborative efforts with other institutions, gradually made it a destination for everyone that loves design.
How does your background and experiences equip you for managing the museum?
Lynn Fung: I studied literature and previously worked in journalism. I have always had a real love of words, stories, and fiction. I think this really helped when I was more active in curating the exhibits, as it always allowed me to think: what story am I trying to tell here? What is the point of view or narrative I'm trying to put across? I also don't have a traditional museum background, which I think is actually helpful, as it allows me to do things (such as allowing an open-access display) or bolder cross-disciplinary exhibitions which might seem too unusual for someone who is steeped in more traditional museum training.
How would you put the mission of Liang Yi Museum? And how to achieve that?
Lynn Fung: Our mission is to be a destination for design, heritage, and craftsmanship. We achieve that not only through the exhibits we curate using our permanent collections; but also in the research we conduct on our exhibits, sometimes with outside consultants. We also have a strong educational programme in which we provide monthly lectures on a variety of topics to the public. Finally, we are also invested in educating the next generation, and as such, offer free tours to students every Wednesday.
What are the challenges in managing the museum?
Lynn Fung: There are many! Storage is one, of course. Most museums around the world would agree that you can never have too much storage. There is also the issue of curating exhibitions that are challenging rather than prosaic, yet appealing enough to the general public so the investment in mounting them was worth.
What are your strategies to bring Asian antiques and decorative art to the international audience?
Lynn Fung: Prior to 2020 and the travel bans, we had experienced great success in bringing our Chinese and Japanese collections to international audiences. A large percentage of our visitors came from France and the US; and we also worked with international institutions, such as the V&A and Goldsmiths Hall in London to put on collaborative exhibitions that showcased both our collections. Comparative exhibitions (such as one in which we compared and contrasted French and Chinese furniture of the same period) are also a guaranteed way of drawing in new audiences who might be less familiar with Asian decorative art.
The art scene in Hong Kong has been growing and evolving fast in recent years. How does the museum interact with the local art scene?
Lynn Fung: We work with many local institutions: for example, we did an exhibition with the Ink Society where we borrowed some works of modern Chinese ink, so that we could curate a show that exhibited them alongside our collection of antique Chinese scholarly objects. It was extremely successful, as people really enjoyed seeing an exhibition that had both fine and decorative art together. This is actually a lot more unusual than you would think!
Many among the Hong Kong public may think Chinese antiques are for the older generations or the few rich. How do you encourage interest in antiques among young people?
Lynn Fung: As mentioned, we do have a strong educational program in which we actively reach out to students and young people. I find that social media is also another obvious venue. Since we allow people to touch most of our objects and encourage photography inside the museum (not flash of course), we find that it helps spread our message in a very organic manner.
Can you share one interesting or memorable story about the museum?
Lynn Fung: There are so many I wouldn't even know where to start! We have had a good number of interesting visitors to the museum, including fashion designers Paul Smith and Dries van Noten. We also had the chef Pierre Gagnaire and the musician Ning Feng for a visit. While we love all our visitors, I must say that when someone really creative comes to visit, it's always a treat for us as well, because some of the connections they make between our collections and their chosen field is always surprising and inspiring.
What is your vision for the museum in the next five years?
Lynn Fung: To keep doing what we do: educating our visitors; collaborating with our community; and putting on exhibitions that continue to inspire and surprise our audience.
October 19, 2020