Ana Elisa Egreja: painting the texture of things
Maria do Carmo M. P. de Pontes
Ana Elisa Egreja has painted interior scenes for twenty years. We talked to her in the midst of a change, discussing about creativity.
It is not unusual that artists who share a studio, or attend the same school, are further interested in similar pursuits – something which commonly gives way to an overlapping aesthetic. Sao Paulo-based painters Marina Rheingantz [here is the link to the artist's contribution to our 'At the show with the artist' section. Ed.], Rodolpho Parigi [here is the link to our interview with Rodolpho Parigi. Ed.] and Ana Elisa Egreja all attended Fundação Armando Álvares Penteado (FAAP) around the same time in the mid-2000s; if their practice had then some points of intersection, they each went on to take very different paths. Rheingantz is interested in creating immersive compositions of dreamlike, barely figurative landscapes; Parigi makes use of myriad techniques to develop works that sit between the classic and the erotic. Equally grounded in realistic representations, Ana Elisa Egreja creates colourful compositions of interior settings where human figures are only perceived through vestiges. She explains, 'even if human beings as such are absent from my paintings, their traces are present. Since I started painting about seventeen years ago, these traces have been important elements to the stories that I want to tell with each composition. They operate as clues, situating the works in time and space'. Such clues come in various forms, like posters, paintings and photographs, thus creating trompe l'oeil illusions that are the artist's signature. Painting is the natural milieu of deception, and Egreja knows that well.
For nearly 10 years from her university days until the early 2010s, all her compositions were fruit of invention, without any ties to the real world. Picture a view of Japan's Mount Fuji through Frank Lloyd-Wright's colourful windows; or yet Oscar Niemeyer's unmistakable design of the Sao Paulo biennial's windows framing a carioca landscape. Within such ludic figuration, birds and other animals thrived, depicted in poses that stressed the absence of verisimilitude: pink flamingos atop a sofa where a pig sits comfortably, about to eat a cake. In another composition, a cuddly white bear lies in bed alongside a Chihuahua; on the back we see a wall with tiles whose motifs spam from geometry to humanoids and birds. The illusion between foreground and background here inevitably alludes to Matisse, yet there's a kitchness about the whole scene that somehow nods to Pop icons.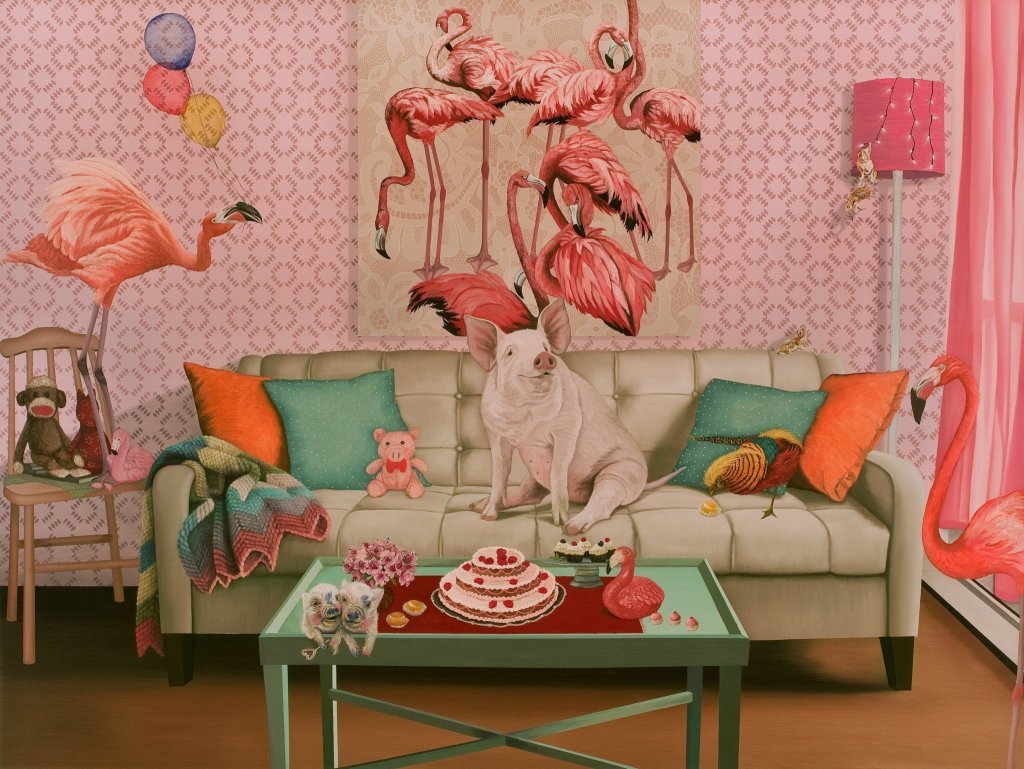 Around 2013, Egreja's process shifted dramatically, as she started experimenting with the staging of scenes. 'That year', she remarks, 'Cobogó published a book about my recent work, and the last painting featured there, a small window, is the first of an ongoing series called "Still life with Fantasy Windows". It is also the first in this new process of staging'. The artist embraced the traditional method with all its challenges: for a starter, there was the need to compose a 1:1 scale and, considering the artist's taste for immersive compositions, that would sometimes implicate true Hollywood logistics. 'I had painted wet floors before, but to actually flood a floor was something entirely new, and rather complicated!', she tells us. This processual shift further brought to the forefront an interest in architecture that had always existed but was somehow in the sidelines. For many years Egreja's grandparents lived in a beautiful modernist house in Sao Paulo; when they moved out, she took the opportunity to paint every corner of the building, creating different dreamy settings throughout. In another, more recent take on architecture, the artist painted the interiors of a derelict house designed by Brazilian modernist legend Rino Levi. Due to bankruptcy, the property was completely abandoned, giving her total freedom to create scenarios. 'It was a privilege, but also quite scary. There was a true feeling that a roof would fall over our heads', she muses.
To the perceptive viewer, architecture can also offer time indexes in an artwork. As a storyteller, Egreja makes use of architecture, as well as other details, for such purposes. Besides the aforementioned posters and photos, the presence of graffiti and, moreover, stickers, help to locate a composition in space and time. 'Fora Temer', the slogan against the vice-president who plotted the impeachment of Dilma Roussef to become president in Brazil, can be seen in a few works; more recent, 'Fora Bozo', which is the pejorative nickname to the current Brazilian president. Also the design of logo marks – a certain shampoo bottle, the colour of Apple's apple – further assist in placing the works in time. Egreja mentions Jac Leirner's magnanimous installation with stickers titled Adesivos 44 (2004) as an influence in this process.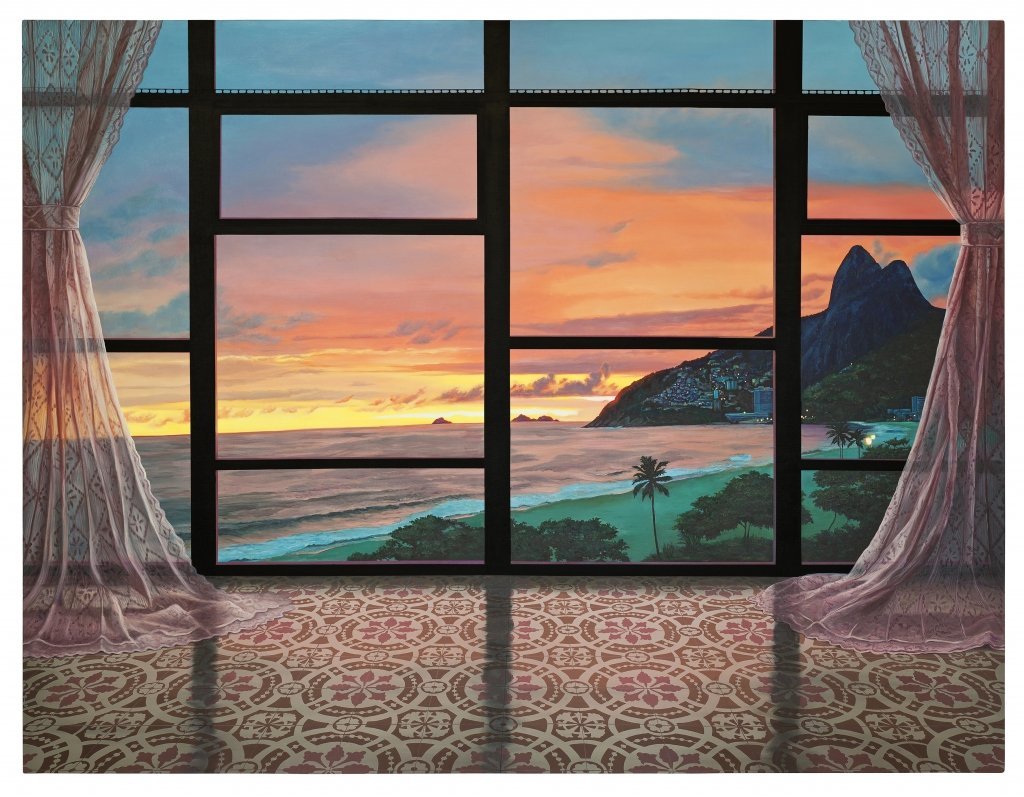 She tells us that she often works with four or five paintings at the same time – 'otherwise one gets bored' – and that she has always co-developed her large studio works alongside smaller scale paintings – her 'night works', that she develops after putting her children to sleep. However, due to the circumstances created by the global pandemic, these small paintings became the bulk of her practice in recent months; she has since been developing a series called 'Soap Dishes'. Moreover, the pandemic encouraged her to make amends between the processes of imagining and staging a scene, something that gave her total creative freedom. 'The thing is', she explains, 'I am interested in painting the texture of things. If you look at my canvases in flesh there's volume, which can only be conveyed live'. Whatever process she adopts, the creative act is invariably a painstaking activity, albeit a labour of love. 'I am now trying to combine the precision of scenery staging with the freedom of collage, to create each painting as a fantastic new word', she concludes.
November 25, 2020