Brussels Gallery Weekend 2022: five top solo exhibitions
CFA (from Brussels)
Foulon, Katambayi, Walter, Zahle, Werner: our favorite exhibitions from this year's Brussels Gallery Weekend
The 15th edition of Brussels Gallery Weekend inaugurated the season of the Belgian art world with 47 gallery shows, two curated exhibitions, an off program, and a packed series of events. The monumental size of this year's central venue, the former money printing facilities of the Belgian national bank, reflected the architectural ambitions of many galleries in Brussels, especially relative to the size of the city. For example, the new main space of Xavier Hufkens reminded us how framing matters: the renovation of Hufkens' white cube–a project by architects Robbrecht en Daem, who had already taken care of turning this former town house into a gallery in the early 90s–confirms the apologetic nature of a powerful architectural context towards occasionally forgettable art. Architecture or art theory aside, we peel the fruit and drink the juice with five top shows from this year's Brussels Gallery Weekend.
Olivier Foulon at dépendance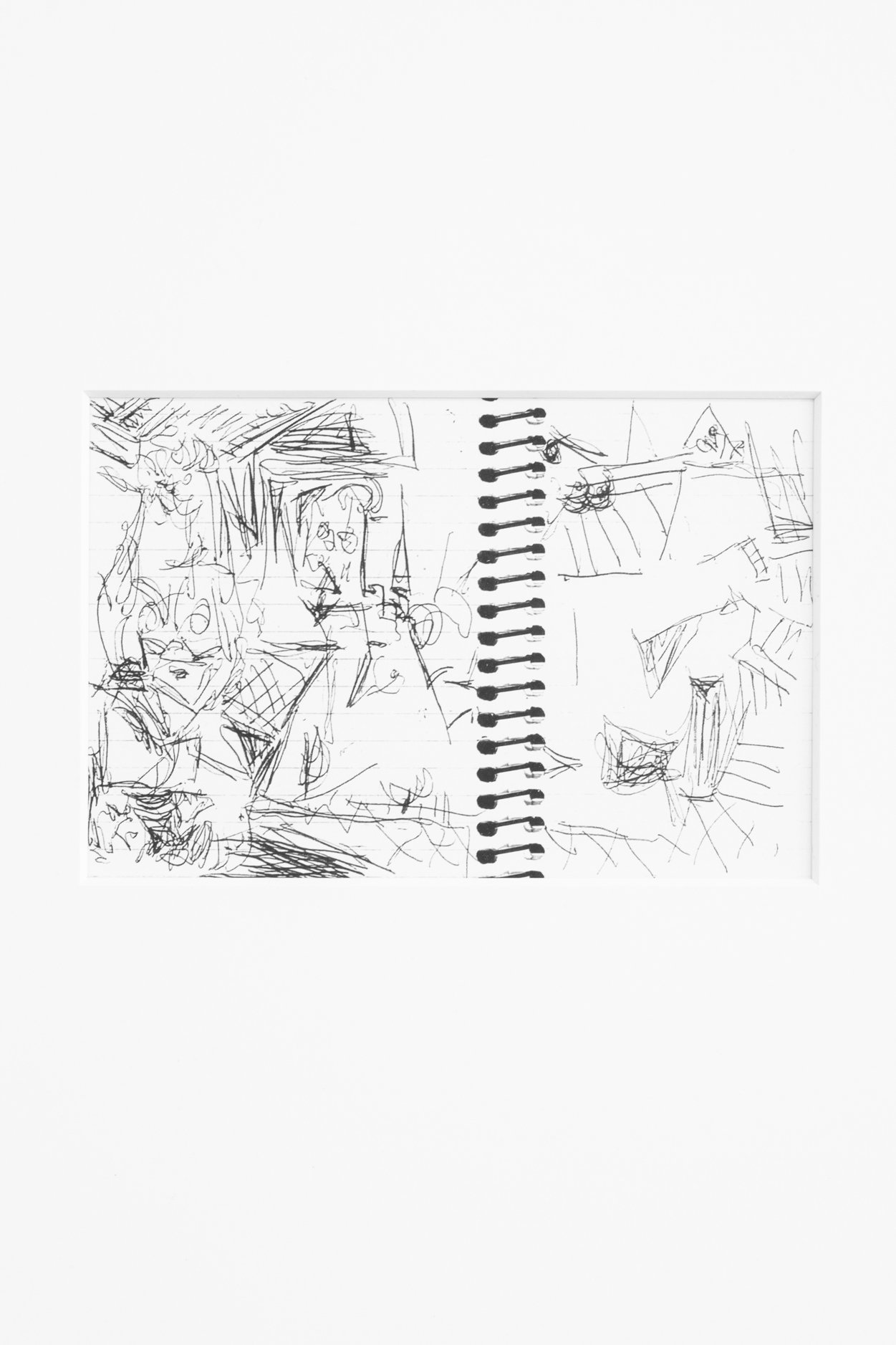 Olivier Mignon notes that Olivier Foulon has the "capacity to take hold of art history as a whole and redistribute its terms." For this exhibition at dépendance–third part of a series including one show at Galerie Clages in Cologne and one at Alma Sarif in Brussels–the artist redistributes art history's formal terms, specifically the forms of Picasso and Delacroix. He shows a series of framed sketches (or notes?) from his notebook inspired by Les Femmes d'Alger by Picasso, who was himself inspired by Delacroix. Foulon finally frames the notes with oversized passepartouts. Sometimes art students learn about art by copying its history–who hasn't seen a group of youngsters sketching old master paintings in a museum. Hardly should we consider Foulon as owing to the simplicity of this learning process though, for he is more interested in joking about history than using it as a tool for enlightenment. Although there is no direct offense to the authority of so-called "masters"–it's commonplace to take this authority critically these days–Foulon pulls the legs of the ancients just enough for us to enter the world of conceptual satire with refreshing pleasure.
Jean Katambayi Mukendi at Waldburger Wouters
We've followed the practice of this Congolese Jean Katambayi Mukendi for some time. Readers might be familiar with our interview with him from a couple of years ago, and with some words about his pieces in the Kasper Bosmans-curated show at Gladstone in 2016. The display of new works at Waldburger Wouters somewhat marks the beginning of this gallery's representation of his art. Standing out in the show is TrashTV, 2022, a windshield from a broken car is incrusted with a constellation of found objects. The piece belongs to a series already seen in Basel at SALTS: a technological relic becomes the display for new ways of reading the world's present. The other major work, The Concentrator, 2022, is a personal interpretation of a mineral refining machine. In the exhibition text by Martin Germann, the piece becomes a metaphor for connection. Things that would not generally be seen become visible in a shared box resembling a raffle drum, suggesting that, in this universe, chance rules both joining and splitting.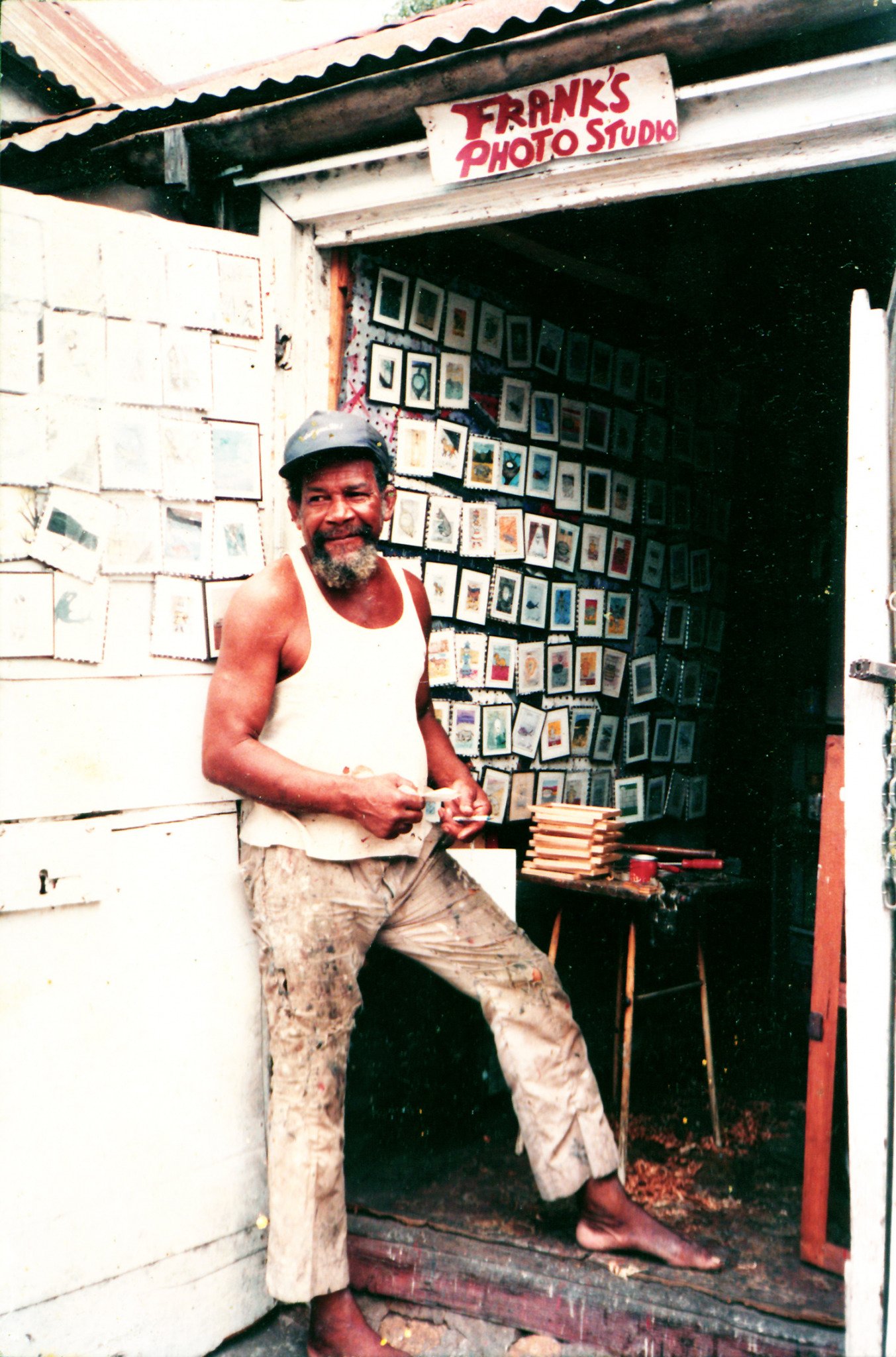 Frank Walter at Xavier Hufkens
Archival material and a few small-scale paintings, which are displayed both inside the gallery and in the outdoor window, form this museum-worthy, yet small, presentation of Frank Walter's work at Xavier Hufkens. The show is curated by Walter scholars Barbara Paca and Nina Khrushcheva, who have been helping uproot and understand decades worth of artistic production and compelling intellectual visions by the overlooked Antiguan artist. Born in 1926 and active until his death in 2009, Walter's story is one of social and psychological relevance to a world much beyond his. At different points, he was a black man running a sugar plantation, a traveler looking for himself while advocating civil rights, and a solitary hermit busy with representing his own cosmos through art. The paintings on show are genuine vistas of Antiguan landscapes; the archival material includes scores of the artist's music, poetry, and found images dear to Walter. Among his many shows since his death, it's worth mentioning the Antigua and Barbuda pavilion at the 2017 Venice Biennale.
Maria Zahle at Arcade
Maria Zahle's solo exhibition at Arcade for Brussels Gallery Weekend is a further step into the artist's solid poetics. All the elements evoke a wide range of emotional possibilities that stem from the most direct use of basic material, that is, color and paper. The artist produces her pigments from organic material found in her garden in Copenhagen, while the geography of her delicate vocabulary of biotic shapes consistently expands a long-lasting conversation with her audience. Yet there's a new ingredient at work here: Zahle taps into her family circle to shed a specific light on this new body of work. The black and white pictures of Danish sculptor Astrid Noack at work, a friend of the artist's grandmother, brings the above mentioned conversation toward a more intimistic ground. As in the dialogue between her and Phyllida Barlow in the book recently published on the occasion of the exhibition at Kunsthal Ronnebaeksholm (with Phyllida Barlow, Christine Clemmesen, Anthea Hamilton and Hannah Heilmann), Zahle questions herself being an artist: "I feel like I am struck in two generations. Between pretending to be a man, the masculine style and a 30some-thing person being super open about family life. I am quite sympathetic to this younger generation, who are not at all afraid of presenting themselves as vulnerable."
Jasmin Werner at Damien & The Love Guru
Two main parts of Jasmin Werner's art practice converge into a single installation in her current solo exhibition at Damien & The Love Guru for Brussels Gallery Weekend. On the one hand, the Filipina-German artist follows up with her visualization of the paradigmatic dualism between the recently demolished Berlin's Palace of the Republic (also known as People's Palace) and the iconic Burj Khalifa in Dubai, which contains recycled pieces of steel coming from the former socialist building–in Werner's abstraction some scaled horizontal "slices" of the Arab most daring architecture are completed with plastic sheets bearing parts of Palace of the Republic's original floor plan. On the other hand, Werner displays a series of film-wrapped photographs addressing the issue of Filipino immigrants and their problematic relationship with their family back home; she tells the story of one of her relatives, a gay man now working at a male-only aesthetic center in Dubai. In the background, some wallpapers activating the gallery walls mix found images of people inhabiting the two buildings at different times. "I like when artworks are able to raise questions," Werner told us during the opening. We still would like to know more about it.
October 25, 2022