Evan Chow: from his grandparents to the New Museum
Ricko Leung
We sat down with Evan Chow, third generation collector, trustee of the New Museum and member of the Cercle International of the Pompidou.
Thanks to the long-time collectors of Chinese ink art, antiques and ceramics in his family since his great-grandparents, Hong Kong collector Evan Chow has developed an enormous interest in art. Within a decade, he has assembled a collection of around 200 pieces of mainly Geometric Abstraction, paintings, emerging to mid-career artists, as well as Hong Kong artists. Part of these are hung in his art-filled seaside house in Sai Kung, Hong Kong. He is currently a member of the board of trustees of the New Museum as well as the International Circle of the Pompidou Centre.
Read on to know about his most memorable artist's studio visits; how he makes use of social media to discover and connect with artists; in what ways art collectors can help support the art development in Hong Kong; his choice of five Hong Kong artists that we should not miss out.
***
How did you develop an interest in art?
Evan Chow: My interest in art was originally inspired by my family, as my great-grandparents, grandparents and extended family have been long-time collectors of Chinese ink art, antiques and ceramics. As a child, I still recall how my grandparents would meticulously rotate the antique and furniture pieces accordingly to seasons, events, festivities, and with new additions to the collection.
When and how did you start collecting?
Ewan Chow: In the 2000s, during my years in investment banking, I enjoyed contemporary art and design but didn't have enough time for them. Since the start of the art fair ArtHK, before it became Art Basel Hong Kong in 2013, I have been able to further develop a keen interest. I still recall the strong euphoric feeling during my pilgrimage to ArtHK after which I brought home a work by Zhang Xiaogang. I subsequently joined the International Council of leadership of the New Museum in New York, then its Board of Trustees. It hugely broadened my horizon on the landscape of contemporary art.
Can you tell us a bit more about the 200 artworks in your collection?
Ewan Chow: The dominant themes in my collection are abstraction and figuration throughout the 20th century. We focus on Geometric Abstraction and artists loosely associated with this style and language. This is an umbrella term that carries the diverse and fluid interpretations that I bring to it, for example the American Minimalism of the 1960s, Concrete Art and its international reach.
Being associated with the New Museum informs me enormously on previously under-recognized artists, as well as cutting-edge emerging artists engaging with social issues of today. Some of them focus on digital technologies, and their histories are also on my radar.
Since my college years in the US, where I developed a passion for painting during art history and oil painting classes, I have remained loyal to painting as a medium. I have been devoting a part of my budget to seek some of the most excellent young contemporary painters, from all pictorial schools and styles, which hopefully will be seen as the representative aesthetics of our time.
I obviously reserve a special place and quota for Hong Kong artists, as well as international artists of the Asian diasporas.
What is the thread that keeps your artworks together in your collection?
Ewan Chow: Besides the several current "threads" I have just categorised, a private collection, unlike a museum collection, should reflect the environment, the interests and the desires of an individual— its owner. It should hence stay fluid. It is constructed not only by its owner but through his/her interactions or dialogues with gallerists, advisors, curators, critics, even fellow collectors or other people in this milieu. A collection is a highly personal affair but possesses a social and communal nature too.
My acquisitions go way beyond the visual attraction, focusing more on the history, methodology, inspiration, and significance of the artists and the subject of their works.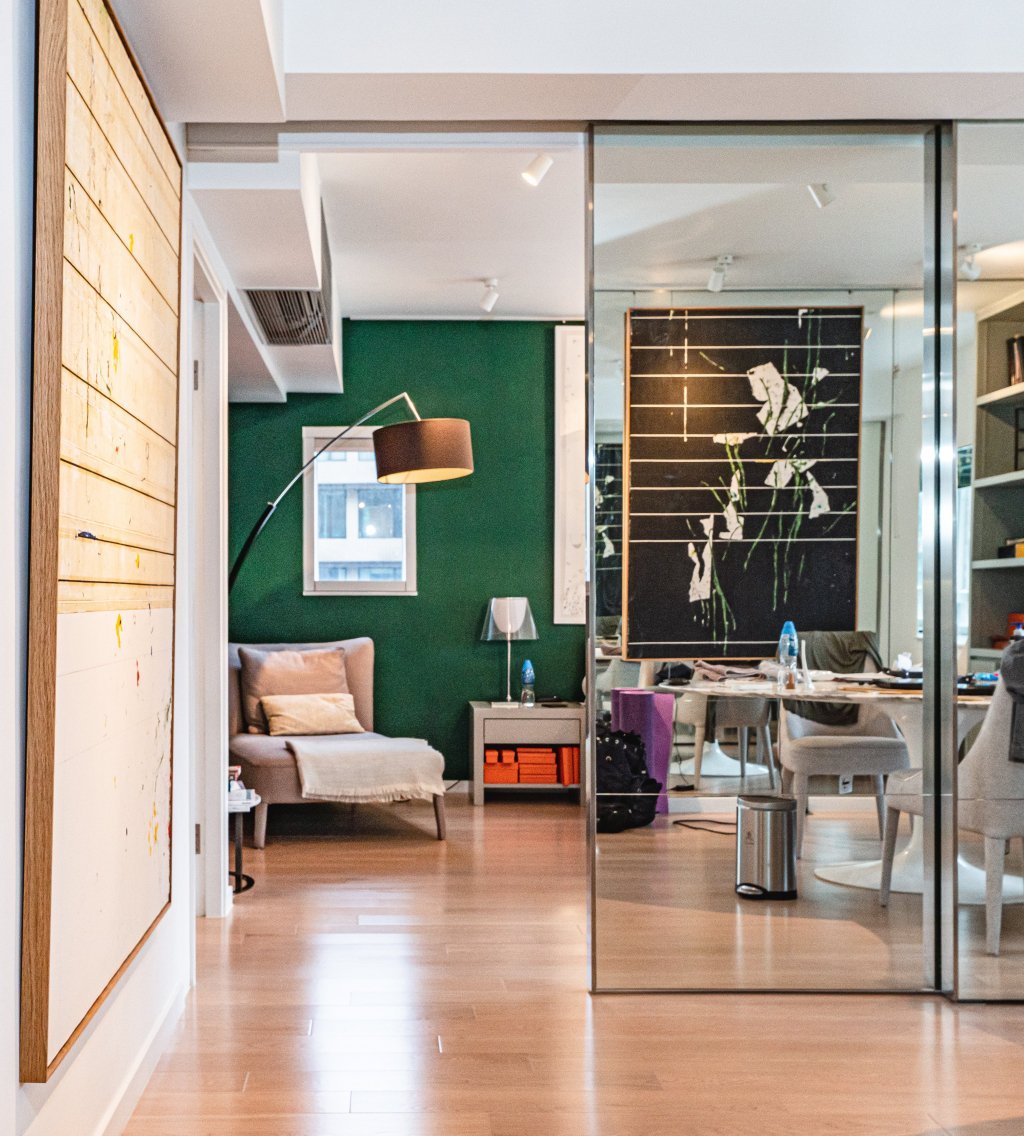 How do you decide whether to acquire an artwork or collect an artist? Do you spend much time doing research on an artist or artwork?
Ewan Chow: For a private collection, a wide range of reasons, goals, and constraints play a role in deciding what to acquire and which artists to support. As mentioned before, I work closely with my team to review each purchase using our methodology and research, although I do sometimes make instinctive decisions.
Besides the aforementioned focuses in the collection, it is also important to consider if the piece can fit into any of my properties as I like to live with my art pieces.
With my tight and packed working schedule, I am still able to spend some time connecting with the art world every day, usually during night time. I am grateful to have my art team managing my collection, who sources art findings and shares their art insights with me in my free time. I am building up an art library at home, where I would ideally dedicate more reading time on essays and subjects of artists on our radar.
How has your financial background influenced you in your collecting and perception of art?
Ewan Chow: I tend to balance between investment worthiness and curatorial importance.
You have an art-filled, frequently updated Instagram profile. How do you make use of social media to discover artists and purchase art?
Ewan Chow: Instagram is the easiest way to discover artists and new works today. I do enjoy taking my time understanding the context and various aspects of a piece of art and the artist through exchanges with a gallerist, specialist, checking on museum, art updates, and the artists' profiles.
Instagram is the ultimate hyper-connecting platform, especially during this period without major fairs and exhibitions. I use it as a community tool to really stay updated and be in touch with everyone on a regular basis.
I sometimes use private messaging on Instagram to reach dealers, artists, curators or fellow collectors I have never met before. However, I haven't yet made any purchases on Instagram.
You travel a lot to visit artists' studios and collectors' homes. Any interesting stories out of these encounters?
Ewan Chow: Going back to the time before the current halt of international travel of the art community, I attended the Istanbul Biennial curated by Nicolas Bourriaud last summer as part of the New Museum Patron study tour, organized by the leading Turkish art patron Fusun Eczkabsi. After that, we travelled with the New Museum board of trustees to prominent Greek collector Dakis Joannou and his wife Lietta Marousi's art-filled home.
Artist's studios must be the most exciting places in the world. Among my most memorable studio visits are Peter Halley, Apostolos Georgiou, and Hiroshi Sugimoto. The journey to Georgiou's studio close to Kavouri Beach and the exchanges we had are unforgettable.
As a member of the board of trustees of the New Museum as well as the International Circle of the Pompidou Centre, what impacts can you make?
Ewan Chow: Being part of the patron bodies of such distinctively different institutions with different missions makes you realise that supporting living contemporary art goes way beyond signing a pay cheque for a purchase. It involves contributing with ideas and resources, proactively creating initiatives in cohesion with respective art patron families. Despite my tight business schedule, I very much enjoy sharing my financial, strategic, cross-border business perspectives to help drive these important cultural institutions and make an impact on their development on various fronts.
What are the advantages and limitations of Hong Kong as an international art hub?
Ewan Chow: Hong Kong should be more than an art market output and trading center. We are at the forefront of the international art market, while we should not forget that this city is situated at the intersection not only between the so-called West and East but also of a microworld of Asian contemporary art.
The past decade has seen institutions blossoming such as the future M+ Museum. Hong Kong has an important role to play in weaving the history and the development of art and the dialogues inside Asia itself. I think that Hong Kong artists and art practitioners often get neglected or overlooked.
I am glad to have recently been witnessing local collectors getting more involved with the local scene, for example through the gallery association, a reference to what is already being done in London and Los Angeles on the cooperative level in the ecosystem.
[Here is our interview with Uli Sigg, an inspiration for the M+ Museum. Ed.]
[Here is our interview with Lynn Fung, director of the Liang Ly Museum in Hong Kong. Ed.]
How are you contributing to the art development in Hong Kong as an art collector?
Ewan Chow: Collectors who have an international outreach such as me can help generate much-needed exchanges in the art community, project initiatives, and institutional cooperations.
Last year during Art Basel Hong Kong 2019, the New Museum board gathered in Hong Kong where I was proud to have introduced the local scene as well as fellow Asian collector friends to them. Along with fellow trustees from the United States, museum director Lisa Phillips and board director James-Keith Brown made a trip to my weekend house where a part of my collection is kept. Hopefully, I will be able to bring more momentum, connections, and probably ideas to these exchanges occurring already between the Museum in New York and Asia with Hong Kong as my base.
Can you name five Hong Kong artists we should not miss out?
Ewan Chow: Chris Huen, Cheng TingTing, Firenze Lai, Wong Ping, and Leelee Chan.
November 5, 2020