Marina Xenofontos, fluidity is a chrism
Stefano Pirovano
Marina Xenofontos' poetic loops entail independent words, images and forms, that fluidity turns into a discourse
Read carefully the captions of the works by Marina Xenofontos (born in Limassol, Cyprus, in 1988), for they are a crucial element to understand her elegant poetics. To start with, her titles say exactly what the works really are, thus they set the feeling, the purpose, or the concept that the pieces epitomize. For instance, the kinetic dinosaur she presented last spring at The Island Club – an exhibition space founded by Christodoulos Panayiotou, who together with Haris Epaminonda and Maria Loizidou is one of the key personalities of contemporary Cypriot art – represents a "copy of a dream." The original object comes from a theme park created at the time when Jurassic Park was still in vogue. The artist has found and modified it. In the same exhibition, the long oxidized moving copper cylinder is a "rainbow." The wooden head leaning on the white plastic is "Children of builders, children of miners." The resting Narcissus mm she showed at the end of last year, on the occasion of her first solo exhibition at Hot Wheels Athens, represents "twice upon a while," and the bronze plate hanging on the wall in front of him embodies the "set theory." These are tyrannical titles. The artist's creativity honestly reveals itself for what it is. Materials follow the title. The wording is diligent, precise, essential, formally unexceptionable, but sharp enough to make the caption itself sound like a confidential whisper.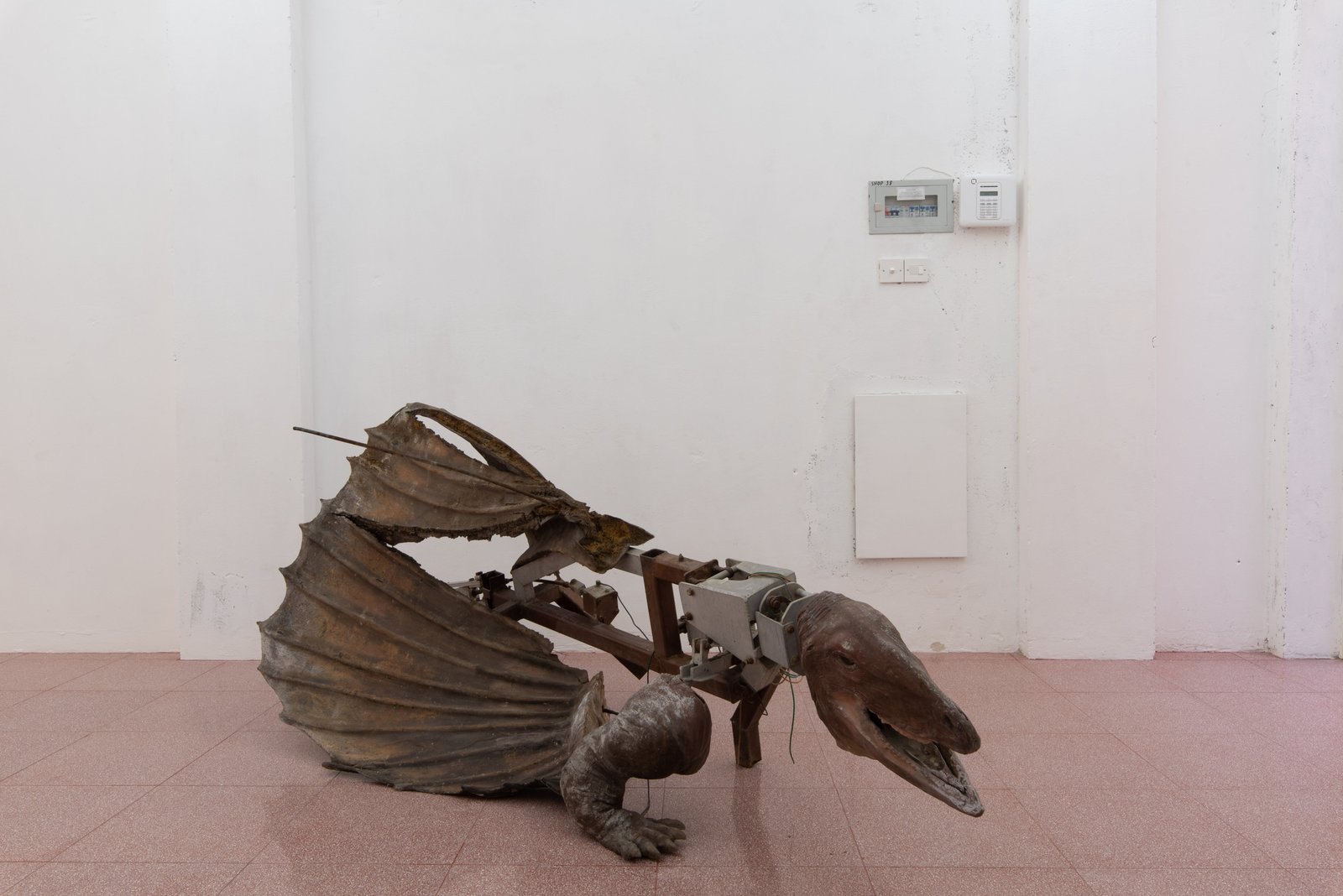 The above-mentioned kinetic dinosaur is simply a "modified object." The wooden head is made of MDF, but its support, anything but improvised despite appearing to be so, is a "Rejected monobloc chair" – that is a very specific kind of plastic chair. The cylindrical "Rainbow" is made of bronze, iron, an engine, but also energy (power) and movement, without which the rainbow would probably not exist. At this point the trajectory should be clear.
The art practice of Marina Xenofontos is a poetic declaration consisting of physical objects, but also of written words and fragmented narratives. It's a multidimensional composition consisting of images, situations, ideas, which design a polyphonic imaginary. We would place it in the same broad set that includes "off media" artists such as Raphaela Vogel (here is our writing about Vogel), Laure Prouvost, or an emerging talent like Hanna-Maria Hammari (here is our writing about Hammari).
Between 2018 and 2019, Marina Xenofontos attended the Rijksakademie residency in Amsterdam. She had previously studied sculpture at Bard College in New York and earlier at Goldsmiths in London. As an artist, she has no favourite medium or material. Rather, similarly to masters such as Nicolas Schöffer or Spencer Finch, she is mostly interested in light and movement. The latter is well represented by the kinetic dinosaur – how difficult it is to get away from him! – while the artist's fascination for light gently arises in the piece titled "Data storage of a true spectrum," which was part of her solo at Hot Wheels Athens. The fragments of Philips Compact Discs on the mobile roll project a "direct sunlight," itself part of the artwork as the caption confirms.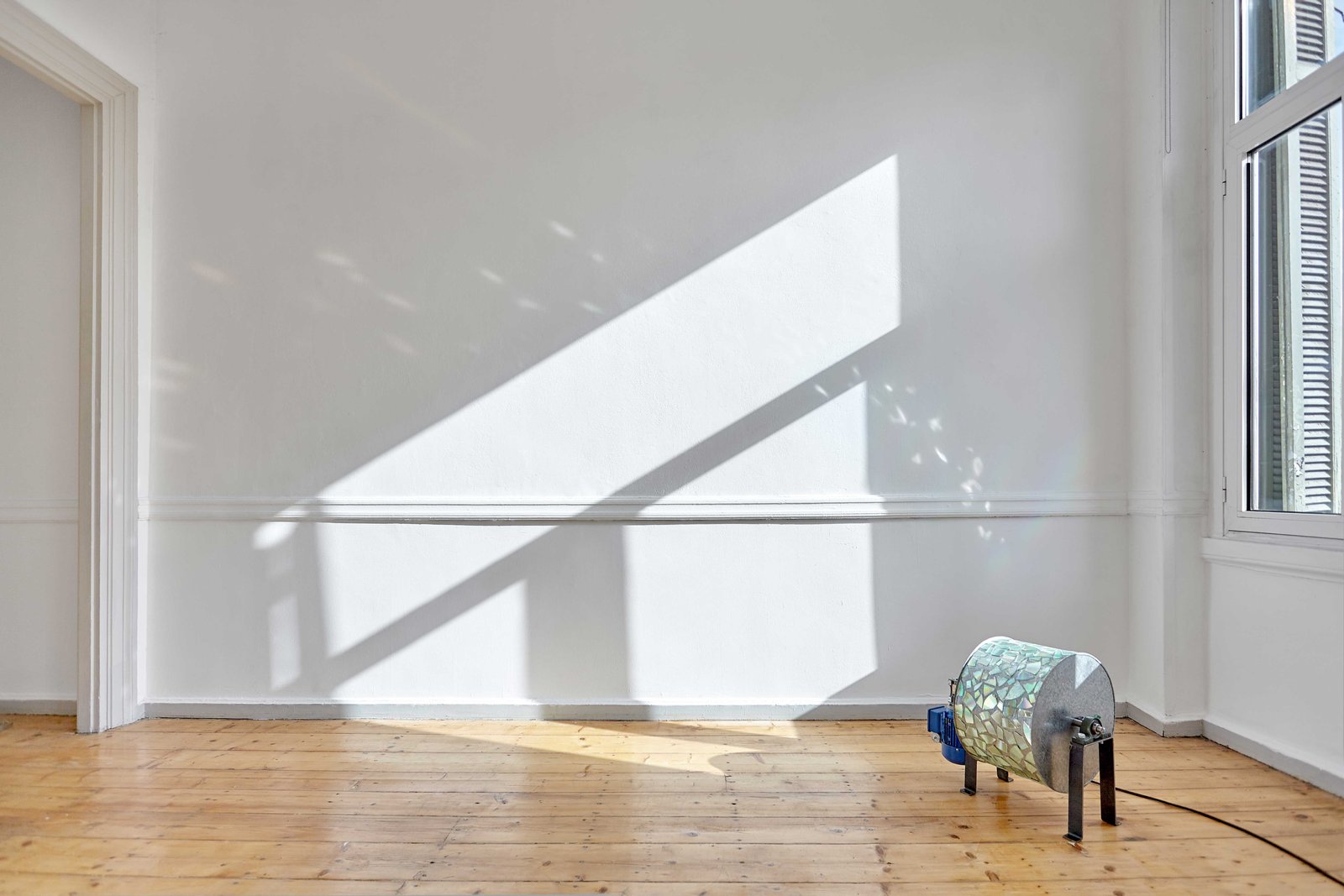 Since the beginning of her career, Marina Xenofontos has also been engaging in writing and curating – two of her interests that merged into an art collective called Neoterismoi Toumazou, which was part of the Cyprus Pavilion at 2017 Venice Biennale. The texts introducing her projects give an idea of the role that creative writing plays in her art practice. Usually they're aimed at creating a precise poetic tension and background rather than offering information about the works on display. At The Island Club, for instance, the introductory text was a selection of passages from the artist's personal diary. Likewise, her solo show at Hot Wheels Athens moved from a short poetic text that, as a specimen, we quote below:
We are caught in frameworks: webs, relationships and Venn diagrams that never quite meet. System Failure. Relics created through friction and fiction; second-hand, mediated and shared memory snowball into reality. Collectively, the gestures in But we've met before are grasping, probing, searching. Layers displaced, decoded in material and technique. Personal narratives, social stories, and historical events, fuse in their head as they melt into the mirror. Darkness envelops them, sentences and sounds surface from the void- it's own portable cosmos. Gagarin soars, escapes from a prism of iron madness. Lost symbols, lost histories, lost time. A holler jolts them out of it: cries of monotony, thoughts and actions being erased.

Parallels untwine, as if 1-1-4 never existed. I, you he, she lays still, wait, hang on, second

chance now.
We lay still, on broken glass and asphalt. x Aris, Marina, Hugo, and Julia.
The Atheniense Narcissus is an avatar born as a character for a videogame on which the artist is currently working while in residency at Fondation Fiminco in Paris. In his digital dimension, Narcissus is struck by an "ideological crisis." He easily forgets things and is unable to complete even simple tasks. We find him in his physical version, abandoned on his work table facing the Polytechnic of Athens. In 1973, this university was the center of the student-led protests against the Military Junta. In 2011, students evoked the same protests during a critical phase of Greece's financial crisis. "When I find myself developing an exhibition," Marina Xenofontos tells us, "the elements I decide to show are not necessarily connected on a formal level. Each one has its own references, which are often historical in nature. But the works as a whole activate a sort of poetic loop. I try to create fluidity between various elements."
---

Note: Marina Xenophontos' works are currently part of the exhibition "Anti-Structure", curated by Andreas Melas at Deste Foundation in Athens and of "School of Waters", Mediterranea 19 Young Artists Biennale in San Marino. In October the artist will also take part in the group show titled "I GOT UP" at gb agency gallery, and will be presented by Hot Wheels Athens at Paris Internationale.
November 24, 2021